CASTOR UNDERGROUND NATURAL GAS STORAGE (UGS) PROJECT
The Castor Underground Natural Gas Storage (UGS) facility project is a regulated facility and a key strategic component of the Spanish gas system that is needed to help meet the urgent need for additional gas storage capacity in Spain. Castor UGS is ideally located on the highly industrialized eastern Mediterranean coast of Spain, with onshore facilities to be constructed 15 kilometres (9 miles) inland from the coastal town of Vinaròs and additional facilities and wells to be located 21 kilometres (13 miles) offshore over a depleted underground oil reservoir. Through its strategic partnership Dundee Energy Limited (formerly Eurogas) has an indirect ownership interest in the Castor Project. As a regulated strategic facility Castor UGS will be remunerated whether or not it is fully utilized.
Project financing of approximately €1.3 billion has been secured from a syndicate of commercial banks for Escal UGS, the Castor operating company in which Eurogas has an effective 24.6 percent interest, through its 74% ownership in Castor Limited Partnership.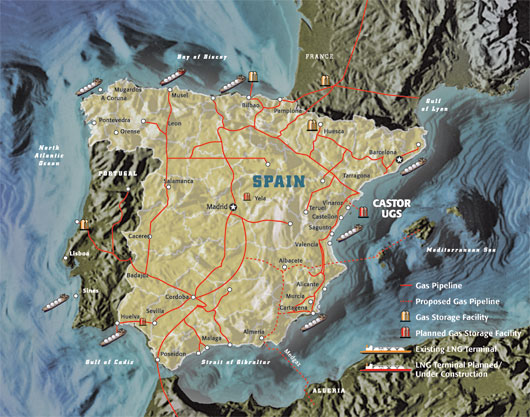 The Castor UGS project will utilize the depleted Amposta oil reservoir. This offshore geological structure is 5 kilometres long, 2.5 kilometres wide and up to 250 metres thick, providing an estimated total of 1.9 billion cubic metres (67 billion cubic feet) of storage capacity. The underground reservoir's size and porosity provide estimated storage volume equivalent to 14 liquefied natural gas (LNG) transportation tankers.